Fortune favors the bold. 2014 certainly proved that to be true. The year began when I boldly suggested to an acquaintance of mine, that perhaps my talents as a comic creator and graphic designer might be of good use in creating a billboard or other advertisements for the company she worked for. Soon after that I was meeting the manager of my local cable and internet provider and discussing what I might be able to do for them. By the end of January, I had created a design branch of my company, Warrior Innkeeper Comics, changing "Comics" to "Creative" to better express this new venture. By the end of February my first billboard for MINet Fiber went up on the main throughway in town.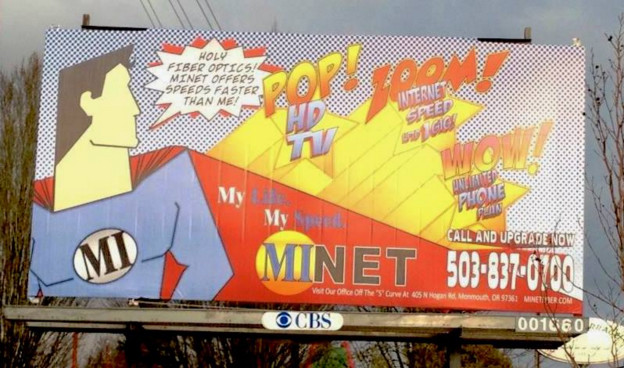 The first is always a little awkward, the the billboards got a lot better and when summer rolled around the Mascot I developed for them became something I'm really proud of.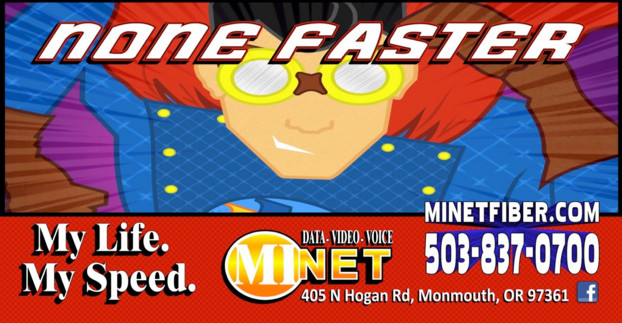 Over the course of the year, Warrior Innkeeper Creative grew into something of its own. More Billboards, Ads, Flyers, Brochures, and eventually we even made a few animated spots with our partners, Best In Oregon.

Truth be told, by December, I was burnt out. Mind you, I was doing the work of at least three people combine that with late nights, short and very tight deadlines, along with working out of an office instead of my home (while it helped with productivity) had me missing out on my kids early discoveries. But it was my inexperience which ultimately hampered my efforts. Unfortunately, the client choose to go another way at the end of the year. Though losing a job never feels very good, you do your best to not take it personally, it's business after all.
2015 hit and I felt directionless to say the least. However, my desire to create comics hadn't waned. I put out some feelers, again looking to put my skill set to work, and I landed a Lettering gig for a webcomic called EveryMan. Working with the creators of the comic every week has been a blast and it taught me, though I had been down, I wasn't out.
I attended a few comic related events, twice as a vendor and once as a patreon but I wasn't making anything new. I wasn't creating. This was a problem.
Back in 2007, when I was deep in depression and my war related PTSD was out of control, I was on the verge of loosing my life - by my own hand nonetheless. Out of nowhere, I was asked to write a short story for a comic anthology called, Alternate Reality. I discovered that creating comics, hell, just creating, distracted me enough that I was able to find my feet again and several years later, stand -metaphorically speaking- on my own.
So, there I was, half of 2015 gone and over. I was still in an unproductive funk and needed to make comics. However, I was now the proud father of FOUR children and my pockets seemed to have holes, because they never had any money in them. The thing about comics is, it cost money, especially if you're the writer. Then there is Kickstarter.
Once it was decided Kickstarter would be used to raise funds to cover the costs of production for the first issue of what is planned to be an on-going series, I wrangled my co-creator, Ed Ellsworth, into helping me do so. That and running a campaign was probably the best decision I had made in so many months.
The next sixty days were filled with excitement and disappointment. We took a month to prep and then launched the Kickstarter from our booth at the Northwest Comicfest in Salem, OR August, 2015. We got a great response, we were invited onto several comic related podcasts and were interviewed for a number of websites, not all comic related even. It was exciting… Of course, like all such fundraising campaigns there are Ups and Downs. Ours ended on a Down. But it wasn't a total loss. The experience alone was extremely valuable. The people we met and the new fans have all been really great and supportive. We knew right away we were going to relaunch. It was decided we needed at least six months to boost our promotional efforts and a time to do a little more research on the best ways to approach crowdfunding.
By the end of the year, we had a website dedicated to the comic and we knew the Kickstarter would launch in April 2016.
Most of the above is well known by those who follow us, what you may not know is, I very nearly quit.
Back in August, things were busy and the months before had fueled my self doubt. Unwittingly, I had entered into a bit of an Identity Crisis. I wasn't sure what the future held. I had lost whatever it was which kept me motivated in the pursuit of this challenging career in comics. The financial potential of working in marketing had filled me with a hunger, but my mind was to clouded to hunt for clients and meet that potential. I also knew, I wanted to be a publisher as much as I wanted to create comics.
When you weigh the options, Marketing work far outweighs Comic work, in that I have five mouths to feed kind of way. Thus the struggle with my company's identity. Should I grow the Marketing aspect or the Publishing? This lead to me inquiring other publishers. It also lead to some wondering what the hell is Warrior Innkeeper Creative? But it wouldn't be until this year, 2016, that I would not only ask myself that question but find the answer to it.
Over the last few months, Ed and I have began construction on a new foundation for the company. We've built up our social media presence, put our books into more eDistribution stores, such as ComiXology & Kindle, Ed has created a fun and informative website for our soon to be Kickstarted comic The Black Suit of Death, and a number of things are in development which will be announced over the next few months.
But what is Warrior Innkeeper Creative?
That's a question I'm still working on answering. It is important, when establishing a public profile of any sort to be clear and consistent, that is certainly my goal when it comes to rebranding W.I.Creative. Thus far, I've narrowed it down to the following definition:
Warrior Innkeeper Creative is a Comic Book Publisher. We offer Marketing Solutions, specializing in custom comics for your business (more on this when our new website goes live later this year). We also offer Graphic Design services such as, Logo Creation, Comic Book Lettering, & more.
I had gotten lost in the big picture. By stepping back and taking a look at the work I've been able to accomplish with my many wonderful collaborators and clients I not only discovered areas we, as a company need to work on but in that, I have found my confidence again. I've identified my strengths.
I am an ideas man. My strength is my creativity.
In the five plus years I've been at this I've learned a lot, the learning curves haven't always been kind. I've had Ups and I've had Downs, but I now know, as perhaps I always have, I am a Warrior Innkeeper and together we're going to show the world what we can create. ;)