Black Suit of Death is a comic book series about a depressed college student who finds some alien technology that turns him into a ruthless killing machine.
The Story
About ten thousand years ago, on the planet Utopia 9, a scientist was tasked with fixing an energy crisis caused by overpopulation. His solution was the Black Suit of Death (B.S.D.), a suit of armor that enabled the one wearing it to harvest the life energy of those unworthy of Utopia. This story is told in the one-shot series prelude: Ides of March.
Issue #1 begins roughly 10,000 years later. The B.S.D. is on Earth, where it has been piloted by many different people throughout human history, and has inspired the many stories and myths revolving around the Angel of Death a.k.a. the Grim Reaper. Lost and forgotten for decades, a depressed college student named Edd Grimes discovers the suit, and then struggles to retain his humanity as the B.S.D. turns him into a killing machine.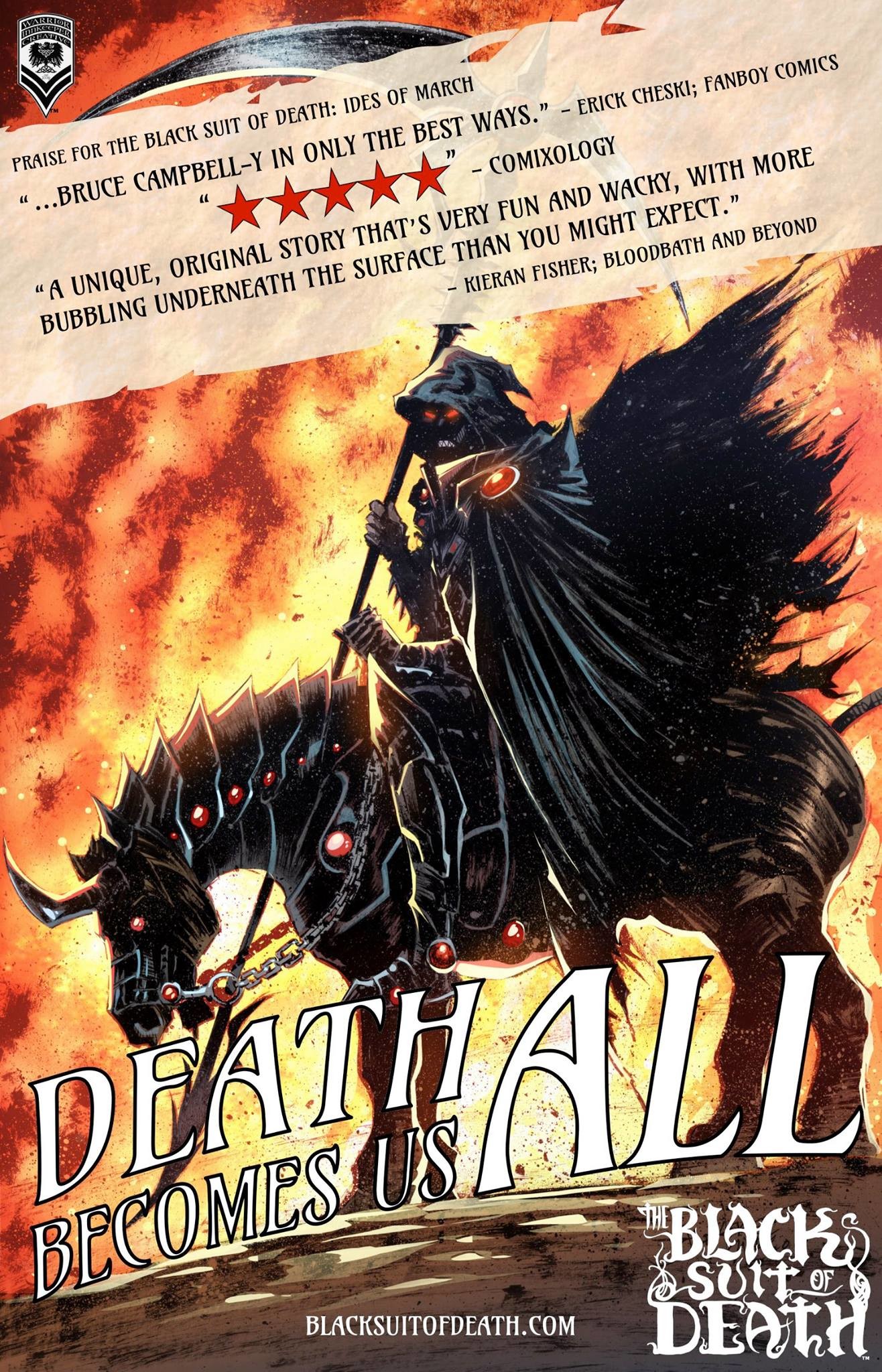 The Artist
Dexter Wee
Dexter is a self-taught artist from Zamboanga City, Philippines.
Having been introduced to comic books at an early age by his late father, Dexter dreamed of becoming an artist, but that was set aside after graduating college to work various jobs to help support his family. Fortunately God smiled on Dexter and mid 2007 he was given the opportunity to work on an independent comic project which led to several others including the ongoing webcomic CURA TE IPSUM, graphic novels such as SWERVE and the Award WinningPATRIOT-1, and the anthology books OUTLAW TERRITORY Vol. 3 and TALES OF THE STARLIGHT DRIVE-IN.
After working with him on a couple one-shot comics for the City of Independence (The Spirits of Independence: A Ghost Walk Companion & Test Drive Independence) I couldn't be more pleased to have him creating this book with us! Dexter has graciously begun work on Black Suit of Death to give you, our generous Backers, a preview of what the book will look like under his practiced hand.
The Writers
Benjamin Kreger

I've spent the last 7 years writing, lettering, and publishing comics under my imprint Warrior Innkeeper Creative (formally Warrior Innkeeper Comics). BLACK SUIT OF DEATH #1 will represent my 20th comic, so it's kind of a big deal. I've written in many genre's and for many age groups. My All-Ages comic THE LESS THAN HISTORICAL ADVENTURES OF LI'L LINCOLN and my mature comic BLACK SUIT OF DEATH tie for favorites. However, the highlight of my career may be when my adopted home town of Independence, Oregon commissioned me for two very cool projects.

Edward Ellsworth
Edward popped into existence out of thin air 25 minutes ago with a fully fleshed out back story, none of which is particularly interesting.